Chief Judge Gary W. Washington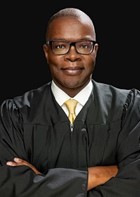 Born and raised in New York City, Judge Washington studied clarinet at Manhattan Preparatory School of Music on Scholarship, and graduated from New York's famous High School of Music and Art.
After completing his early education, Judge Washington went on to earn his Bachelor of Arts Degree with a major in Political Science and a minor in Music Education from Ohio Wesleyan University. He received his Juris Doctorate from Rutgers University School of Law in New Jersey where he served as one of the first two African American editors for the Rutgers Law Review. He also completed advanced trial skills training and education at the Gerry Spence Trial Lawyers College in Wyoming.
Judge Washington began his legal career as a judicial law clerk for his mentor and renowned civil rights attorney, the late and Honorable Matthew J. Perry, Federal District Court Judge for the District of South Carolina. Judge Washington later worked as a staff attorney for the United States Court of Appeals for the Fourth Circuit. Judge Washington has also worked as a senior attorney in the Fulton County Public Defender's Office and the Georgia Appellate Resource Center. The Georgia Appellate Resource Center was an organization that rendered assistance to death-sentenced inmates in obtaining post-conviction relief in state and federal courts.
In 2021, Judge Washington was elected Rockdale County Probate Court Judge, having previously served as Rockdale County's first Associate Judge in the same court. He was also appointed to the Rockdale Judicial Circuit Public Defender Supervisory Council in 2022 by Governor Brian Kemp.
Judge Washington is licensed to practice law in Georgia and South Carolina and has more than 30 years litigation experience. He is admitted to the U.S. Court of Appeals, 4th Circuit; U.S. District Court for the District of South Carolina, Supreme Court of Georgia, Georgia Court of Appeals, and Georgia Superior and State Courts.
Throughout his career, Judge Washington has also been deeply committed to education and community outreach. He has taught at the National Criminal Defense College, lectured for the Georgia Association of Criminal Defense Lawyers, and coaches the Heritage High School Mock Trial Team. Judge Washington has also conducted numerous "Know Your Rights" workshops in Rockdale County and throughout the nation on topics such as "Act Like a Citizen. Think Like a Cop" and "Youth and The Law: What Young People Don't Know That Can Land Them in Jail." He also served as Chair of the Conyers-Rockdale Library System Board of Trustees, where he worked to expand the library's legal research resources and initiate the highly popular Law Speaker Series.
Judge Washington is a member of several professional organizations, including the Council of Probate Court Judges of Georgia, the Rockdale County Bar Association, the Georgia Bar Association, the Georgia Association of Black Women Attorneys, the South Carolina Bar Association, and the NewRock Legal Society.
Judge Washington and his wife, Evetta, have been married for 29 years and they have an adult daughter. The Washingtons are members of Antioch-Lithonia Missionary Baptist Church and the Rockdale County branch of the NAACP.
Judge Gary Washington says his legal career has been Dedicated to making the law a better tool of Justice.
Associate Judge Stephanie C. Anderson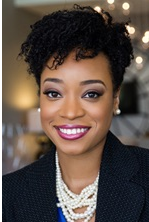 Stephanie Anderson was appointed Associate Judge of the Rockdale County Probate Court in September of 2021.
She attained her bachelor's degree in Journalism and Communications from Hampton University and her Juris Doctor from the University of Georgia School of Law. While at the University of Georgia, she was a member of the Moot Court Board and President of the Black Law Students Association.
In her private practice, she focuses on estate planning and probate matters representing families throughout the state of Georgia. She has been a featured speaker and panelist on estate planning and probate issues for the 100 Black Men of Atlanta, Inc., the Georgia Association of Black Women Attorneys, and several churches and local community organizations in the Metro Atlanta area.
Stephanie is a native of Decatur, Georgia, and a proud graduate of Southwest Dekalb High School. She is married with one daughter.